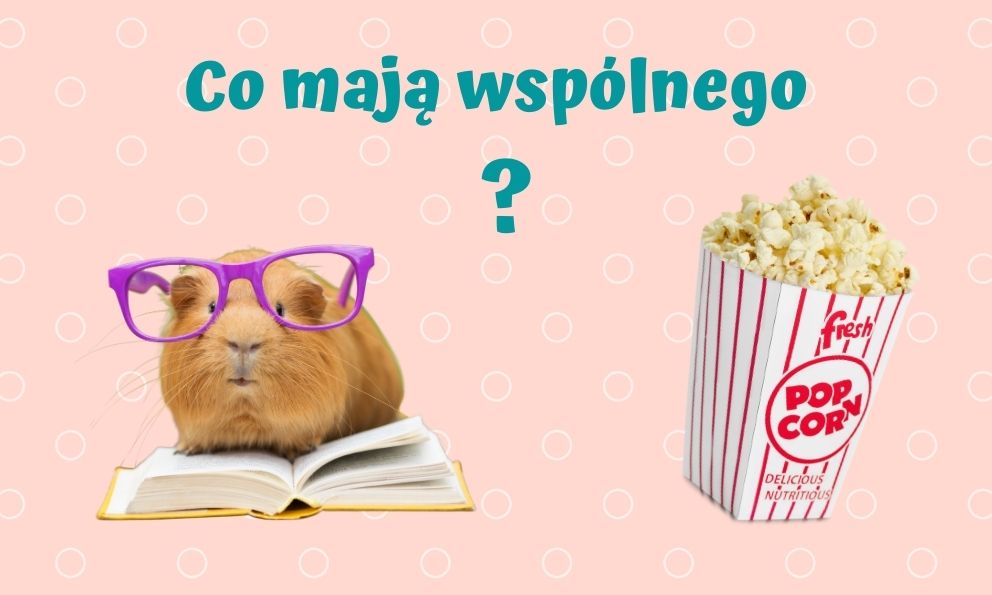 Czy jeśli wygrałabyś w lotto to skakałabyś z radości? Pewnie tak. Przy tak dużej dozie szczęścia to byłoby jak najbardziej naturalne. Świnki morskie też skaczą z radości - na szczęście nie jest do tego potrzebny aż tak silny bodziec jak wygrana na loterii - wystarczy na przykład dać im ulubioną karmę. Są też inne sposoby.
Zacznijmy jednak od wyjaśnienia jak potocznie nazywa się takie radosne podskakiwanie świnek.
Jest to "popcorning" - nazwa wzięła się oczywiście od skojarzenia zachowania świnek z wystrzeliwaniem popcornu podczas jego smażenia.
Wiele osób zastanawia się czy ich małe świnki morskie są chore lub mają jakiś atak - a może coś je boli? Nie, po prostu jest to "popcorning", czyli wyraz czystej radości. Popcorningowa świnka morska wyskoczy prosto w powietrze bez ostrzeżenia. Bardzo często podskokom towarzyszy energiczne obranie się dookoła.
Te niekontrolowane wybuchy radości najczęściej obserwowane są u młodych świnek morskich, ale dorosłym też się to zdarza. Jednak rozmiar i waga dorastających kawii w stosunku do krótkich, małych nóżek prawdopodobnie sprawi, że będą mniej skłonne do takich młodzieńczych szaleństw.
Jedno jest pewne - jeśli już wiesz, że popcorning to pozytywne zachowanie to cieszysz się i chcesz oglądać to jak najczęściej, bo wiesz, że Twój pupil jest zadowolony i pełen wigoru.
Zatem jak sprawić, żeby takie chwile trwały dłużej i zdarzały się jak najczęściej? Oprócz dobrego jedzonka daj Twoim milusińskim więcej rozrywki. Jednym z najlepszych sposobów, aby ją zapewnić jest kupno modułowej klatki piętowej. Świnki uwielbiają wbiegać na piętro i z niego schodzić. Pędzenie po rampie tam i z powrotem jest dla tego małego zwierzątka niesłychaną frajdą - przy okazji dla Ciebie będzie to piękne widowisko, zwłaszcza kiedy bieganiu będzie towarzyszył wspomniany "popcorning". Wybierając klatkę piętrową wybieraj produkty renomowanej marki C&C - masz wtedy pewność, że otrzymasz klatkę modułową najwyższej jakości.